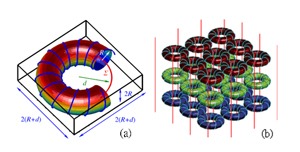 Figure 1 (a) Ring Coil Meta-material within a single lattice (b) Meta-material formed by coupling the ring structure with interconnect array
A five-person research team, comprised of Dr. Din-Ping Tsai of NTU's Department of Physics and the Institute of Applied Physics, and Director Nikolay Zheludev of the Optoelectronic Materials Research Center of Southampton University of England (ranked No.1 in UK in optoelectronic physics) , published an article about ring coil meta-materials on November 5th in the globally famous Journal "Science", and attracted immediate attention worldwide. This research team used very innovative thinking, precision measurement and production technology, and successfully developed "ring coil meta-materials" (see Figure 1). The team members clearly demonstrate that ring coil type of artificial structure can form meta-materials with high value, thus opening up new initiatives for the design and production of artificial meta-materials.
Ordinary natural materials are composed of atoms and molecules, and the properties of natural materials are normally decided by the characteristics of their atomic oscillations. The ring coil meta-materials, which are made of donut-like artificial coils, however, possess very practical effect of electromagnetic field oscillation and amplification, and the ring coils which look like artificial atoms, can provide full human control of the opto-physical characteristics of the meta-materials.
Under the support from the national nano-type projects of the National Science Council, Professor Din-Ping Tsai is collaborating with the Instrument Technology Research Center of the National Applied Research Laboratories to apply the ring coil meta-materials to creating energy, environmental, and medical equipments.
Meta-materials are an important new type of materials that have been given rise in recent years. They differ from traditional materials in that, the properties of meta-materials are not decided by their composition, but rather by their internal artificial structures. Lately meta-materials attract a lot of attention to their applications, such as the "perfect lens", "the super lens", "negative refraction", and "invisible cloak" etc.
Reference website: http://www.sciencemag.org/sciencexpress/recent.dtl